9 Top Bollywood Psychological Thrillers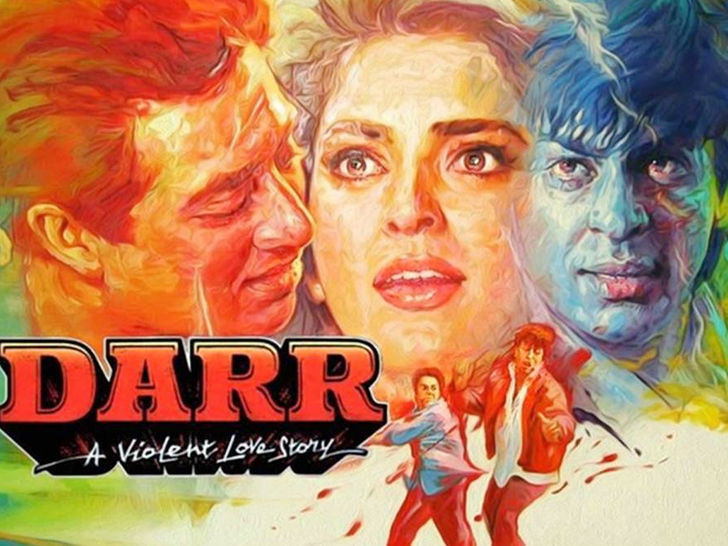 Image Credit: indianexpress.com
As the name means, a psychological thriller involves the complex emotional state of one or more of the characters, often the hero or the antagonist. The narrator is paranoid or irrational at times, and often the narrator is the book's criminal, giving readers an insight into a criminal's troubled mind. Psychological thrillers are also a search for a suspect that has a psychological disorder that wants to be captured by learning how his mind functions. Posted On January 12th, 2021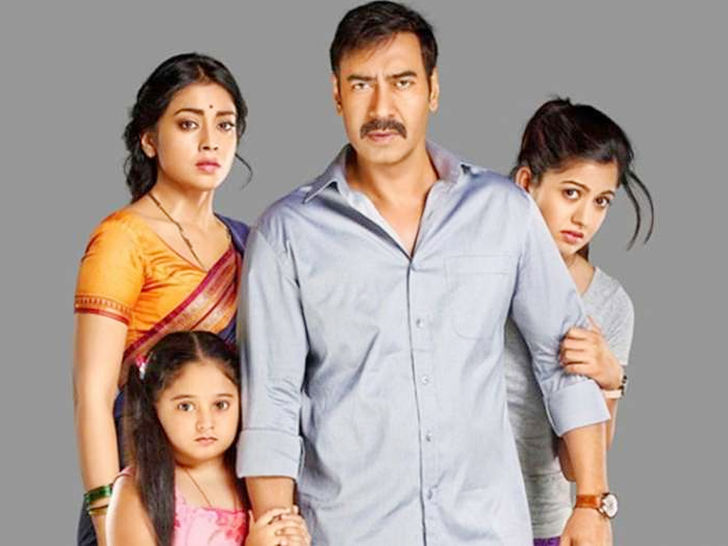 Image Credit: www.indiatvnews.com
Drishyam
Drishyam (transl. Visual), written and directed by Jeethu Joseph, is a 2013 Indian Malayalam-language thriller film. In the lead roles, it stars Mohanlal and Meena, and in supporting roles in features Ansiba Hassan, Esther Anil, Kalabhavan Shajon, Asha Sarath, Siddique, Roshan Basheer and Neeraj Madhav. The film was produced for Aashirvad Cinemas by Antony Perumbavoor. It follows the struggle of Georgekutty and his family, who come under suspicion when, after an attempt to physically assault Georgekutty's daughter, Varun Prabhakar, the son of the Police Inspector General, gets killed by the family. In the first week of October 2013, the film began principal photography at Thodupuzha in Kerala, where the film was extensively filmed. Filming, which was initially planned for 52 days, was finished in 44 days. Sujith Vaassudev did the cinematography and it was edited by Ayoob Khan. Anil Johnson and Vinu Thomas composed the film's soundtrack. The film was released in Kerala on 19 December 2013, Drishyam received a number of positive reviews for the script, the performances and direction. It was the first box office film in Malayalam to earn $500 million. Worldwide, the film grossed over 750 million and ran in theatres for more than 150 days. It's been abandoned.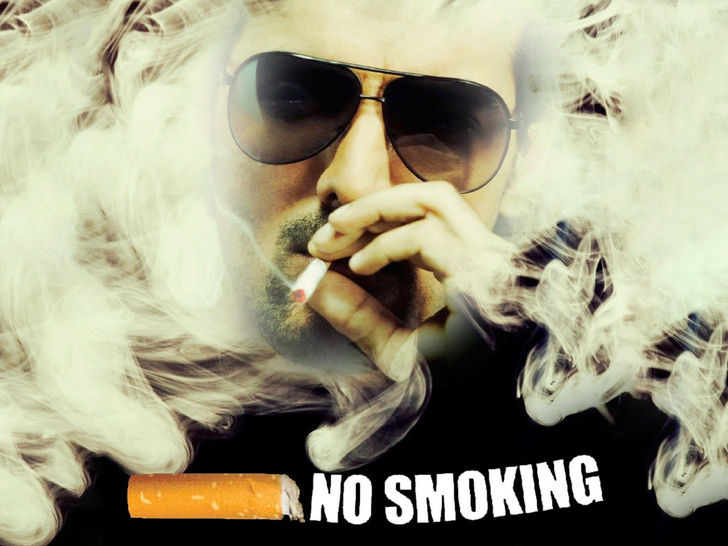 Image Credit: www.rottentomatoes.com
No Smoking 2017
No Smoking, written and directed by Anurag Kashyap and co-produced by Vishal Bhardwaj and Kumar Mangat, is a 2007 Indian neo-noir surreal psychological thriller film. In the lead roles are John Abraham, Ayesha Takia, Ranvir Shorey and Paresh Rawal, while Bipasha Basu appears in an Item number. The movie is loosely based on Stephen King's 1978 short story "Quitters, Inc." which was previously adapted as one of three segments featured in the Hollywood anthology film, Cat's Eye (1985). After Julie Ganapathi, it became the second Indian film and the first Hindi language film to be adapted from the work of Stephen King.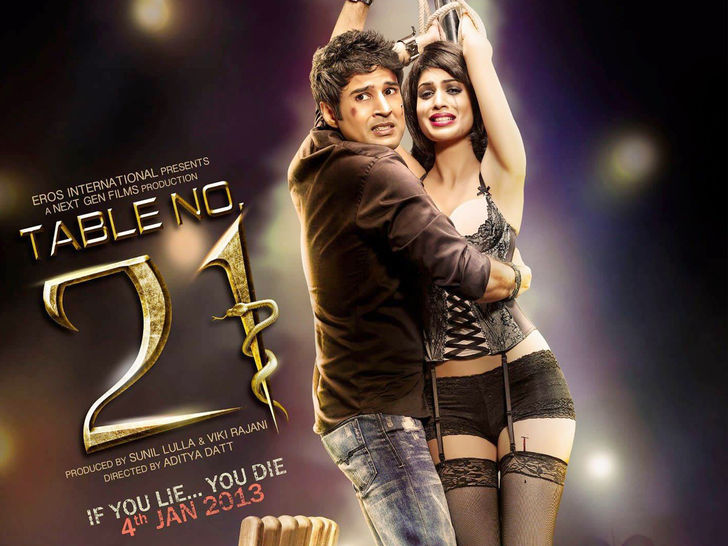 Image Credit: www.komparify.com
Table No. 21
Table no 21' is essentially a history of a lovely couple, Vivaan (Rajeev Khandelwal) and Siya (Tena Desae) who live a mediocre life but are eager to take an exotic holiday in Fiji. They were delighted when they got the chance to play a game of prize money of Rs 21 crore, called "Tell all truth" The game starts and the pair find out that the game is not a game really, but a survival game. The question is followed by eight questions and one task. However, the pair realizes that it's not a game show, as the plot progresses. But a life & death game, involve an unrestful hostile game between the two couple and Akram, son of Khan (Paresh Rawal), who had been brutally snapped by the couple and friends in his college life in the past. The ragging was so harrowing that Akram was no longer able to lead a normal life. Khan's last mission to Vivaan was to destroy Akram because he thinks he has already half lost his son. The pair understand their culpability, and Khan assures them that their remorse will haunt them forever, and for the insult and torture of his son, he has taken his vengeance.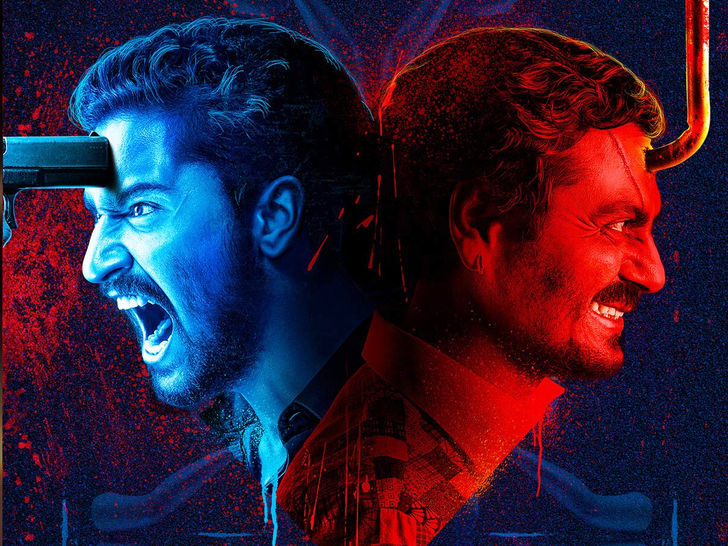 Image Credit: www.amazon.com
Raman Raghav
Raman Raghav was a well-known serial murderer who, with his violent murders, terrorized the city in the sixties. In 2015, Ramanna (Nawazuddin Siddiqui), a unique psychopath, begins working in Bombay. Since the first few murders he committed with a rock, the tabloids mark him as 'Stoneman.' A cocaine abuser comes to meet him and discovers a murder scene on a given evening. A couple of weeks later, Ramanna was arrested by police for interrogation. Officer Raghavan has been found to be the same cocaine user (Vicky Kaushal). Ramanna was imprisoned by the police for a while and abused, tortured and starved before he was eventually able to escape with the help of a young boys' gang. Ramanna's assassination proceeds and searches for a new victim. He sees a poor woman with her husband and son in his sister Lakshmi. On the excuse that he wants a meal, he enters her house but soon ends up arguing with her husband. Enraged, he gets stormy, only then returning and murdering the whole family. Raghavan discovers an ancient portrait of Ramanna and his sister and reveals that he was really involved in the murder. Raghavan, meanwhile, is a very troubled person with drug abuse and rage. He is in a relationship with a woman named Smrutika (Simy) but declines to devote himself to her or be committed to her. They have a dark and violent relationship, and Raghavan has coerced Simy more than one abortion. Raghavan becomes consumed with murders and catching Ramanna to the extent that cocaine is overconsumed. Ramanna was searching for his soul mate, his other half, and learned he met Raghavan. The couple is engaged in a match between cat and mouse when Ramanna appears to have overpowered Raghavan's Spirals out of balance.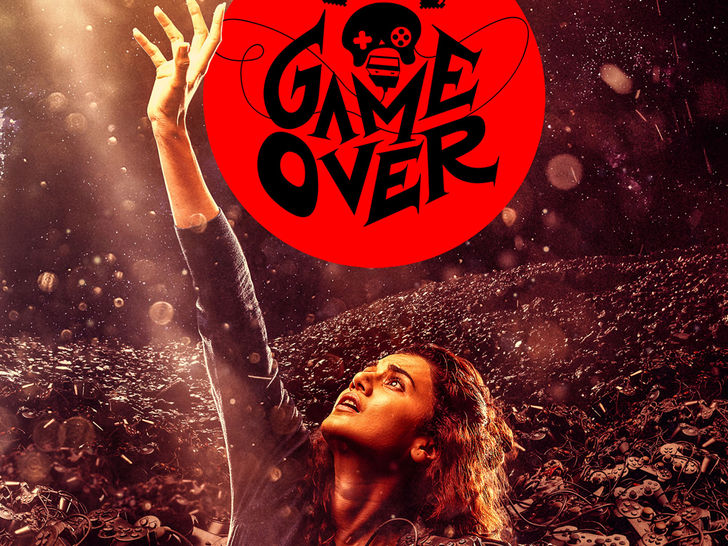 Image Credit: www.imdb.com
Game Over
The film opens with a woman killed horribly, and news accounts reveal how this is only the start of a gruesome mass assassination. Then we add Swapna, a fervent player who hates the dark, too. Her nyctophobia was first induced by a personal disaster a year ago and she couldn't cope with it, and she shut herself up to the world, her friends, and stayed with her caretaker Kalamma. The only thing she needs to do is to beat her own game score in Pac-Man since her passion for gaming. However, her world transforms after she discovers that the tattoo in her wrist holds the ash of a strange child and her sinister past has returned to her haunt. Things worsen when she becomes the victim of the killer. Will Swapna beat life in her own game? Or is one life to overcome the monsters too late for her?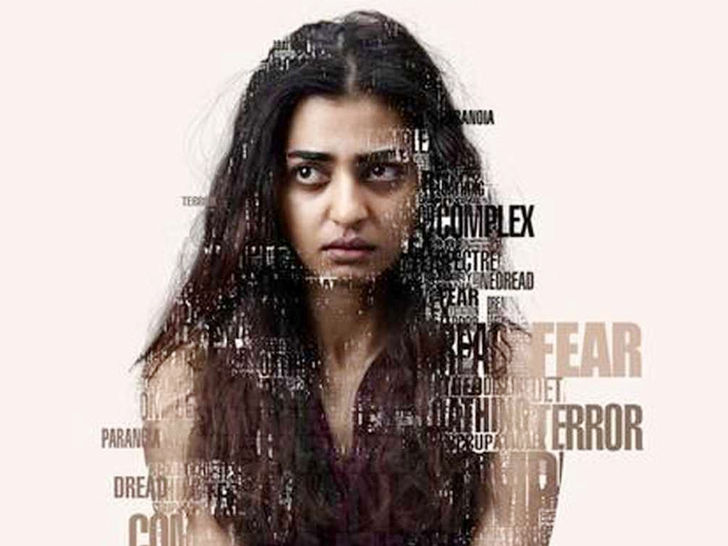 Image Credit: www.cinestaan.com
Phobia
Mahek is an art director who takes a taxi back home after one of her performances. The driver annoys her when she dabbles in the taxi softly. We are being told that she avoids the nickname of time, but a group of people catch her in an uncomfortable state. The film takes several weeks to reveal that Mahek is suffering from agoraphobia now described as a fear of panic, impudence, or humiliation in places and circumstances. She scares her nephew in one of her first sessions and becomes a problem for her husband who lives alone away. Shaan drugs her and brings her into a new home belonging to his friend after Mahek doesn't respond to therapy. The history of this home is that an air hostess stayed there mysteriously until she died. Mahek is committed to doing this work for the first few weeks. She lives alone, makes her neighbor cold coffees and, at night, secretly flirts with Shaan. And after that, what happens? Well, she has a split-finger in her fridge, a dead body in the bath and a black cat under her cover. Well, her nightmares continue. She discovers the old tenant's journal and begins to suspect that her mysterious lover Manu was killed and stays nearby. She is killed. With Nikki her friend, she attempts to figure it out.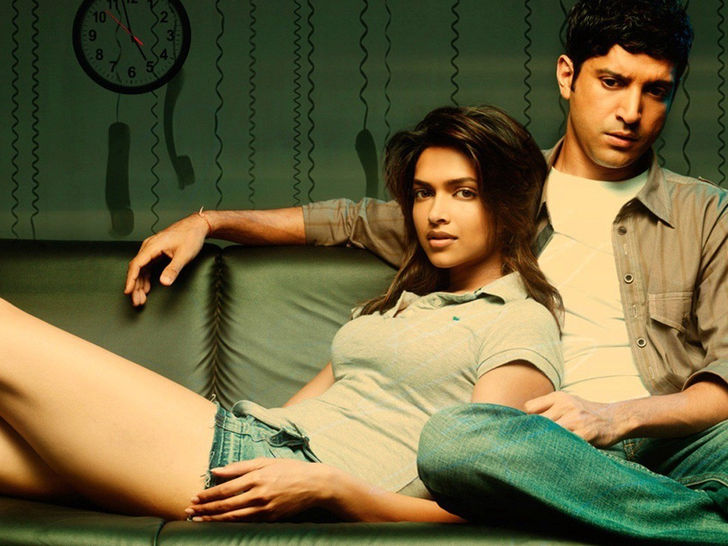 Image Credit: medium.com
Karthik Calling Karthik
Karthik is an introvert and a timid kid by nature and all preference. Being locked in, he struggles with tremendous problems with confidence and is dissatisfied with his not so amazing work, which gives away not so impressive performance. His manager handles him as a left-hand man. Shonali is Nut what's going to come out of his life. He loves Shonali secretly and is his colleague. So she didn't even know it happened on the other side. He knows and has no trouble embracing him, Karthik is a massive loser. Karthik acknowledges the fact that his life worships everyone and then one night unexpectedly life opens the door and rings in a strange way. The call came from someone he has never expected. The telephone call arrives from Karthik or the caller says to be Karthik. And he says that Karthik's life here is to change. Karthik encourages you to change your telephone in your life, and in a little while your telephone will be your mentor, your companion or your mouthpiece. It also became, above all, the green card of Shonali's love of life and changed his life in ways he had never ever dreamed.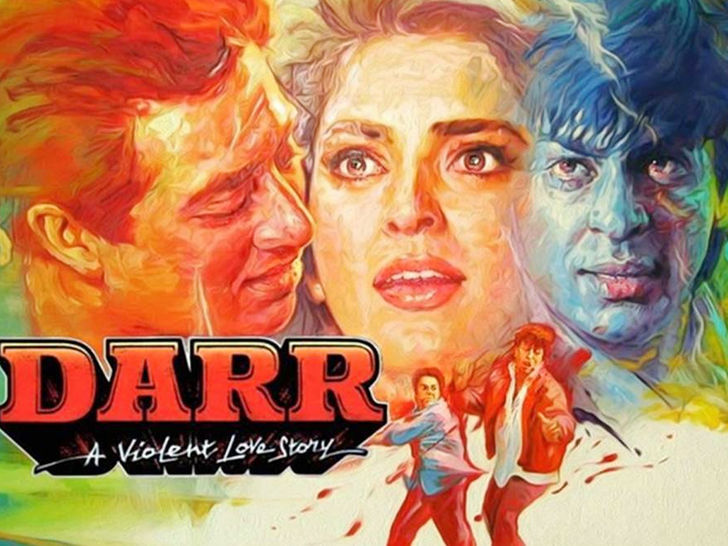 Image Credit: Darr
Darr
The film starts with Kiran (Juhi Chawla), a lovely student of the college who comes for Holi festivities to return home to his brother Vijay (Anupam Kher). On her way Rahul (Shah Rukh Khan), a schoolmate who has a crush, she is obsessively stalled. Boyfriend of Kiran Sunil (Sunny Deol) is also the father of Rahul. He is a naval officer, Captain Mehra of Sunil (Dalip Tahil). In order to be nearer Kiran, Rahul attempts to be nice to Sunil. Kiran is continuously stalled on her phone by Rahul as she arrives home. She and her family are really stressful. As a part of the band, he crashes Kiran's Holi family celebration. Sunil asks Kiran to give his performance money to Kiran, where Rahul expresses his love for Kiran, who is greatly bothering her and there is a foot chase between Sunil and Rahul, but Rahul soon vanishes into the crowd. When Rahul gets the news that the pair are shopping in a marriage ring, he attempts to shoot and to kill Sunil. He fails his target and Sunil starts chasing him, and Rahul is running from this as Sunil encounters an accident.Sunil marries Kiran after his recovery, but Rahul also rejects Kiran. It killed both cops assigned to protect them and defaulted on vandalism that proclaimed his love and caused further misery in their homes. Sunil takes Kiran to Switzerland in a surprise luncheon, thus making additional tickets for Goa, so that the stalker can leave to get rid of the stalker. Rahul then murders Vikram, his best friend and makes it seem like Vikram's stalker. After learning his location from Poonam and Vijay, Rahul turns up in his Alpine hotel. The couple invites him to take part in their parties. Kiran knows him from college.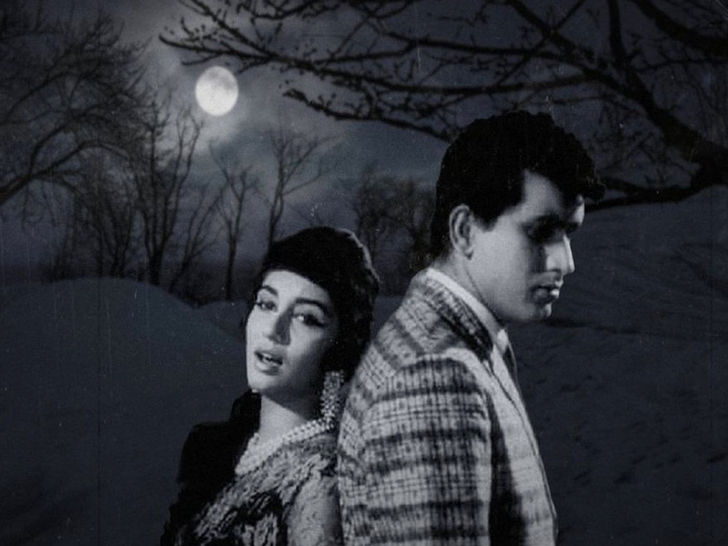 Image Credit: www.justwatch.com
Woh Kaun Thi 1964
A dark stormy evening... A strange woman (Sadhana) Dr Anand (Manoj Kumar) greets him and takes him to the tomb, vanishing. His life turns bottom up fast. His bride Seema (Helen) is murdered, he agrees with an arranged marriage and, like the picture ghost he saw, his bride again is the bride Sandhya (Sadhana!). As trying to make the events around him sense, even though he lacks sight, the climax shows identical twins and a complot planned to deceive Kumar for his considerable heritage by making him stupid!