7 LITTLE KNOWN MYSTERIES OF MOUNT KAILASH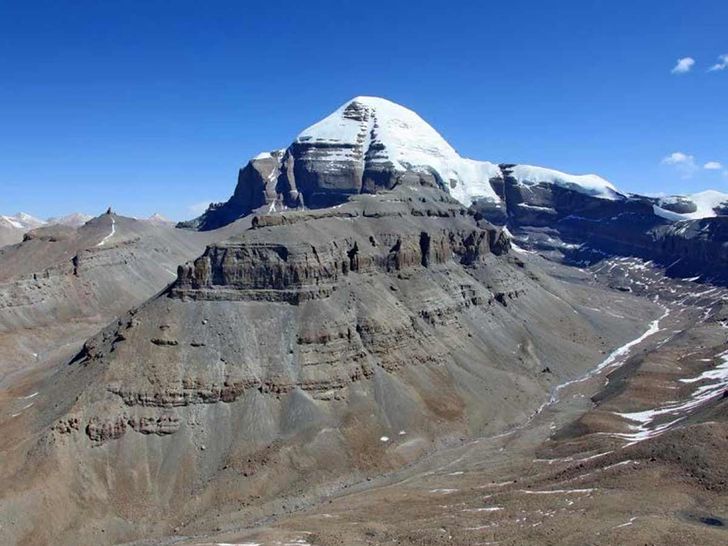 Image Credit: www.mt-kailash.ru
Mount Kailash can be found in western Tibet. Mt. Kailash, at an elevation of 6,656 metres above sea level, is not a high mountain in Tibet. However, it has long been revered as a sacred site by followers of Buddhism, Bon, Hinduism, and Jainism. Posted On August 4th, 2021
Image Credit: maharashtratimes.com
Kailash Mountain Is Unclimbable
The elevation of Mount Kailash is 6,656 metres above sea level. It is not the highest mountain in Tibetan territory. However, no one has reached the summit of Mount Kailash. According to legend, only Milarepa, a Buddhist monk, climbed Mount Kailash.
Image Credit: hauntedattractiononline.com
Kailash Peak is Pyramid
Scientists have discovered that Mt. Kailash's summit is actually a man-made vacuum pyramid. It is surrounded by over 100 smaller pyramids. The direct height of the pyramid complex is estimated to be between 100 and 1,800 metres, while the Egyptian pyramid is only 146 metres. If true, it would dwarf any known pyramid today.
Image Credit: conspiracytheories.in
Supernatural Energy Created Mount Kailash
The miracle of the Kailash Pyramids was most likely constructed by an advanced civilization that understood the subtle laws of energy (the twist field) and how to control energy and time.
Image Credit: www.greattibettour.com
Google maps show the Center location of the Mount Kailash
Kailash Mountain is revered as the universe's axis, the world's centre, and the world's pillar. It is the point at which the earth meets the heavens. According to Google Maps, the distance between Stonehenge in the United Kingdom and Mt Kailash is 6,666 kilometres, which is also the distance between the Kailash Range and the North Pole.
Image Credit: sacredsites.com
Mount Kailash is Also Energy Center of the Earth
Mt Kailash is at the heart of a global system that connects mystical and energy sites from all over the world, including the Pyramids of Egypt, the Pyramids of Mexico, Easter Island, Stonehenge, and the North Pole... that comprise the global energy grid system.
Image Credit: haribhakt.com
Lord Shiva and Rishabhanatha stored their knowledge at Kailash
When we say that Mount Kailash is Lord Shiva's residence, we don't mean that Lord Shiva has been seen in the Himalayas or that he has hidden in the mountains, but that he has stored the knowledge of enlightenment there is a specific form of energy. Similarly, Buddhists believe that Mt. Kailash is home to their three main bodhisattvas: Guanyin Bodhisattva, Vajrasattva Bodhisattva, and Manjushri Bodhisattva. Jains believe that their first ancestor, Rishabhanatha, also lives there. This does not imply that they live there, but rather that they keep the knowledge and truth of enlightenment there.
Image Credit: www.mt-kailash.ru
Kailash Range Area Exist Underground cities
Shambhala and Agartha are two dungeons in the vicinity of Kailash. They are two subsets of human civilization. The Gobi Desert and the Himalayas are home to these two advanced civilizations.